It is possible to change the PHP version of a sub-domain towards a more up to date version. In general, we keep the versions distributed by Debian, which are covered by security updates after those provided by the PHP team. Therefore, it shouId not be necessary to update the PHP version for security reasons, but it is a good thing if you aim to obtain better performance. Multiple PHP versions are available; during upgrades, we transfer users toward the minimal supported version to reduce the work necessary to maintain your applications.
If you need more details about how to check your website compatibility with a specific PHP version, please read our wiki guide.

If you wish to change to a more recent PHP version, you can do it in the AlternC interface by clicking on the domain (1), and then on modify (2) to affect a subdomain locally hosted.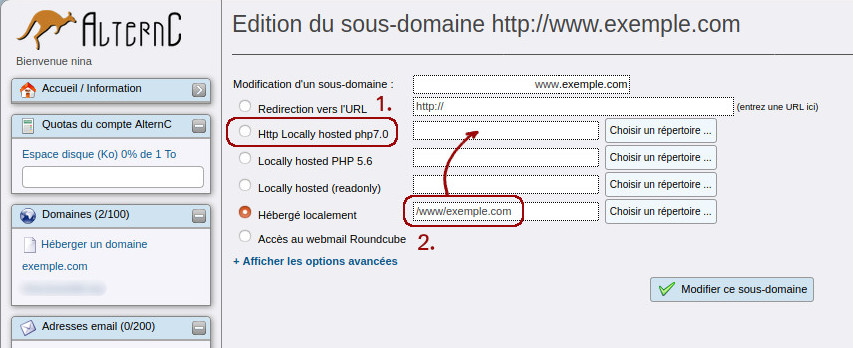 Then you in the domain interface, you can click on "http locally hosted php 7.0" (1) and then (2) cut and paste the directory in which the files are hosted.
You'd then need to click on the save link at the bottom of the page. Changes will be applied in the next 10 minutes. If you have questions on the process, please contact us!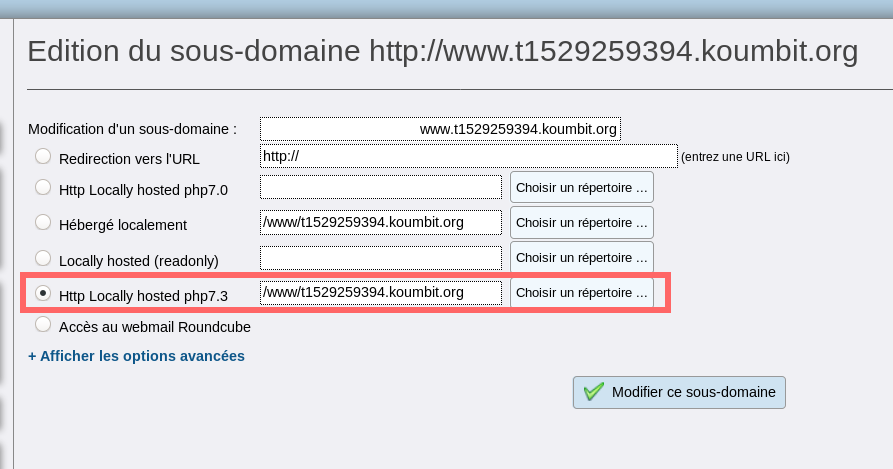 Important: if your domain's DNS servers are managed externally to our hosting service, you will need to apply a change to the external DNS servers for the change to become visible. The sub-domain will then need to point the one of the following IP addresses:
for PHP 8.1: 199.58.80.35
for PHP 7.3: 199.58.80.31
for PHP 7.0: 199.58.80.30
for PHP 5.6: 199.58.80.33